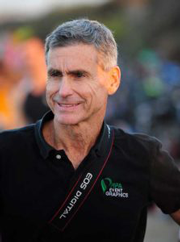 I've been involved in events, in one way or the other, for more than 40 years. If there's a small, dusty corner of the business I've missed (including hanging banners in the rain at three in the morning) I can't imagine what it might be.
What that means for you, our race director clients, is that the team here at MPA sees things from a unique perspective: yours. We know from long experience about deadlines and budgets and last-minute sponsors, plus all those small but important details that drive you nuts as race day approaches.
If you're anything like me, you want stuff that works. You want stuff that you can set up and break down without having an advanced degree in engineering. You need stuff that's reasonably priced, but not if that means cheap crap that lasts for a race or two before ending up in the trash.
The products we've presented on the following pages represent what I think of as a basic race director's tool kit — items I've found over the years to be useful, even essential, yet sometimes hard to find. Where else, for instance, are you going to locate a portable 10-foot-long photo backdrop that will stay upright in heavy weather? Or a 50' roll of printed fencing that you can hold in the palm of your hand?
This isn't all we do, of course. Not by a long shot. But as far as race directors are concerned, this is the good stuff — my own personal bag of tricks. I hope there's something here you can use.


Mike Plant